Here it is, folks, as promised, my ATRAC Life/MDCF-exclusive review of Sony's new MDR-NC22 noise canceling headphones, and here it is:
OVERVIEW:
I bought these on eBay as an alterative to my somewhat bulky MDR-NC6 headphones as well as replace my MDR-EX71SL and EX81SL earphones, which are notoriously low in volume when compared to other units.
I bought them through a seller on eBay on Monday March 26th and the came in on Thursday of that week, the package looked great, and includes the customary (as with all N.U.D.E EX Series phones) three sized silicon earbuds, a (throw away) "AAA" battery, airline plug adapter, and a nice black felt carrying case, as well as all the paperwork.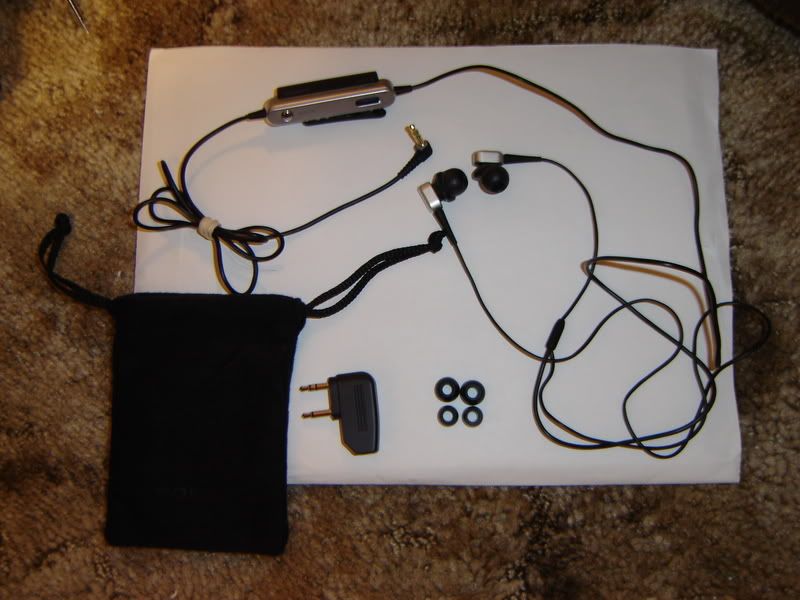 My first impression, after having read the specs on them off of SonyStyle was that they looked better built than their predecessors, the NC11/11A units, and that the battery box was smaller by about 39% over that on the NC11's, I measured it against my RM-MC40ELK remote, which is part of my preferred audio setup, along with my MZ-NH700 Hi-MD Walkman, and when they were both put alongside each other, the battery box is actually a bit smaller then my remote and that it came with a spring-loaded clip for use on your shirt collar or pocket (see pics below for front and back shots).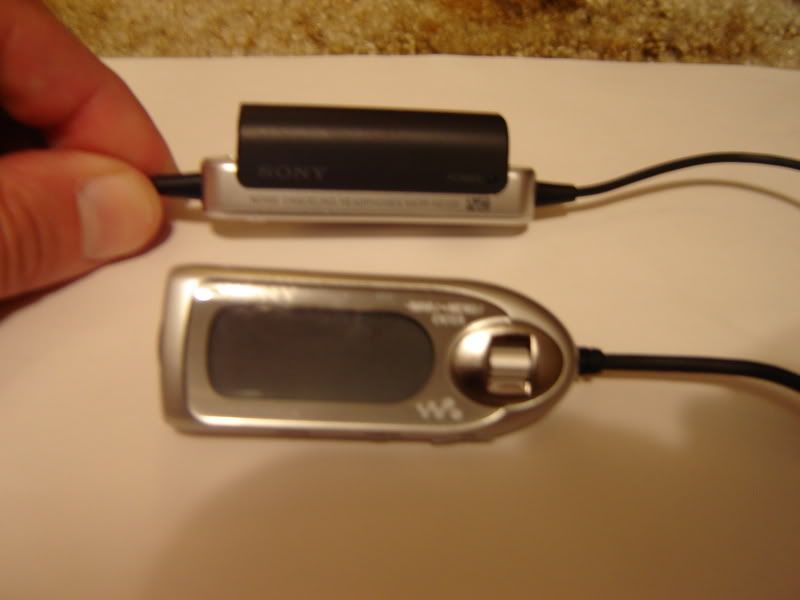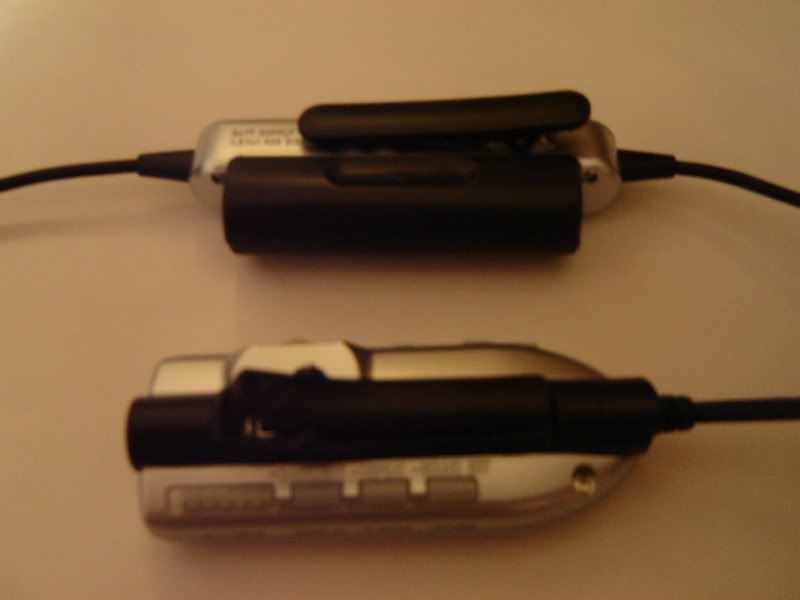 ITEMS USED FOR TEST:
Sony MZ-NH700 Hi-MD Walkman > RM-MC40ELK Remote > MDR-NC22 Headphones with large-sized earbuds
EQ SETTINGS:
100 Hz; +9
250 Hz: +9
630 Hz: +6
1.6 KHz: +6
4 KHz: +9
10 KHz: +9
This setup allows more volume output from my measly 5mW Hi-MD Walkman, of course, your unit, experience and EQ-type (Mega Bass, Graphic or Parametric-based) and settings may vary.
MUSIC USED FOR TESTING:
Various artists and genres on six Hi-MD Compilations ranging from Rap/HipHop to Pop/Smooth Jazz, and Metal and Classic Rock.
THE SOUND TEST:
In order to make this unit more remote-friendly, especially with the ridiculously-long 1.5-meter (59")-long cord, I used a couple of rubber bands and twist ties to shorten the cord to that of a remote-friendly flavor (later on I will have a repair tech shorten the cords permanently to the desired length on each end, about half the length on each), put the now-traditional "neck-chain"-style cord that most IEM's and earbuds now have around my head, and plugged it into the remote. I like to use the remote for group/artist/track manipulation a lot, so bare with me, as I go over the reviews on certain tracks, although your picks may vary.
On Ice Cube "Check Yo' Self (The Message Remix), I noticed that the bass was tight, though not over-powering (as noticeable by the absence of the deep, overpowering "subwoofer"-like effect on it, but overall on rap/hip-hop it wasn't bad., on techno, it sounded great, again not as much bass as my NC6 cans, but you really can't compare its 38mm drivers to the 13.5mm units on these, so the limitations do exist because of these aesthetics.
Next, Industrial, and Nine Inch Nails and Orgy, overall I thought that they sounded great, highs were high (as always with N.U.D.E EX units), lows were low and on these as opposed to the older EX series, the midrange was actually present, and not recessed or filtered out like it was on older units.
Next, Metal and Thrash, and one of the best thrash bands in the business, Slayer, and their 2001 hit, "Bloodline", It sounded just as good on these as it did on the NC6's, if not better, as Kerry King and Jeff Hanneman's razor sharp guitar work sounded as sharp as ever, as its edgy Marshall 4x12 stack-driven tone (which is typical of most metal/thrash) came through with such detailed definition, the same can be said with Type O Negative and their 10-minute + mini-epic "Black No.1", again simply outstanding on it, and since these are all post-2000 masters (remastered to "digital +0 dB to +3 dB on a VU meter), they all required me to turn my unit down from my desired 20/30 to 15/30 on the volume scale, the same as I had to once do on my old classic MDR-A34 headphones.
Now Pop and Smooth Jazz, the response on them was great overall although on some quieter (usually older masters or quieter music) passages on some tracks it made me turn that volume back up to 20/30 in order to accommodate the lack of output from my unit, compare today's units to those from even 15 let alone 20 years ago,
…and I DID!
On my vintage 1991 (pre-1996 EU volume cap/pre-AVLS) WM-B47 cassette Walkman, with both high and low tones set at the maximum on the Mega Bass setting, and cranking up old tapes of Great White and Dio, it REALLY performed on it, even at ½ volume output and the bass and treble were rich and more present on them.
Now, back to the Hi-MD, and Classic Rock, and on Blue Oyster Cult's smash 1981 track, "Burnin' For You", it performed well, as also with Led Zeppelin's "Living Loving Maid", and also a super-compilation of Rainbow, and also on a few other tracks from other bands as well, especially on Emerson Lake & Palmer 20-minute + multi-part epic "Tarkus", again not overpowering bass, but definitely better than on the older EX units., and unlike my MDR-NC6 cans, the bass doesn't "drown out" other frequencies across the spectrum. These IEM's actually have BOTH bass AND presence, and also more importantly, definition, revealing material on my Hi-MD's that my NC6's were missing completely. It doesn't take the brains of a bikini model with a bachelor's degree in business like my former high school classmate, the great Cindy Margolis to figure that out.
NOISE CANCELING:
It did astonishingly well, especially compared to my MDR-NC6 units, in which to simulate noise-isolation like other over-the-head phones, I had to rig a pair of earpads from a spare pair of MDR-V300 units, and all that did was hamper the noise-canceling performance of my NC6 cans, in fact, it seemed to make the outside noise, like the refrigerator or air conditioner, a bit transparent or even a bit louder when compared to the NC22's which canceled it out greatly. When it comes to the noise canceling ability of the NC22's, I prefer them over the NC6's. That along the fact that the 22 units sound better than the 6's do, makes me want to switch to them in my regular lineup, I only wish that Sony would have thought of maybe using a shorter (less length) cord on BOTH ends of the battery box, which looks great alongside my RM-MC40ELK remote, as well as include both an extension cord and a ¼" plug adapter, those would have been nice to allow those with remote control personal units to use a shorter length with the option of using a longer piece either for home hi-fi or other units at will.
I just wondered what any of you, especially our Japanese users, who were the first to get a hold of these think of my review, your input would greatly help.