Sony has recently released a second generation BD player BDP-S5000ES in its ES (Elevated Standard) high end line of AV equipment. The transporter has a great built quality and looks similar to SCD-XA5400ES SACD player I will be covering later on. Brushed aluminum surface of the player matches well Sony's flagship AV receiver STR-DA6400ES.
The following are the key features (in bold) that distinguish this BD transporter from any other BD player out there in the market as of this writing:
Onboard decoding for Dolby TrueHD and DTS-HD Master Audio, as well as bit stream output
Profile 2.0
Quick start mode loads discs in 6 seconds
Ethernet port for firmware updates and BD-Live content
Deep Color and x.v.Color support
HD Reality Enhancer and Super Bit Mapping
XrossMediaBar graphical user interface
7.1 analog outputs
RS-232 and IR inputs
One of the enthusiast's extras of this player is the HD Reality Enhancer, which Sony claims "continually analyzes bit by bit of the original source, sharpening edges and reproducing detail, while reducing the effects of film grain". Super Bit Mapping is another Sony's enhancement which tested and proven to work as advertised. Sony states SBM delivers "smoother color gradation realizing true 14-bit equivalent color tone from 8-bit sources".
The BDP-S5000ES uses a high-stability precision drive HD transport mechanism, separate video and audio power circuit with a low-leakage R-Core transformer to reduce electronic and electromagnetic interference. The massive 22lb ultra-rigid frame and beam chassis are designed to diminish physical vibration during playback.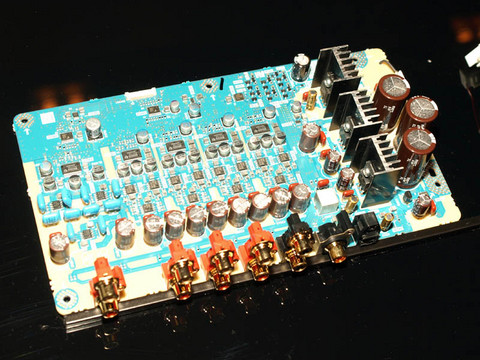 Of course all these technical terms may not mean anything to you, as many customers out there want their BD movie load fast and show the best picture, which this player definitely delivers without any questions asked. PS3 used to be The Blu-ray player and it just has been demoted to #2 spot by this pretty much beast and amazingly striking player (the first question my wife asked when she saw it: "Why is it not slim?", so I had to explain to her that usually high end equipment will look buffed and heavy).
I have run a number of different tests of SD and HD content on two different monitors: Sony Qualia KDX-46Q005 and Sony's OLED XEL-1. I was just primarily interested in PQ and how different it is portrayed on LED Triluminos and OLED LCDs. Of course OLED showed pitch black scenes as they are supposed to be and 1080i/p content played well on both sets. I only wished OLED screen size was bigger to be able to see more detail. I was pretty pleased with upconversion, as upconverting is handled by Sony's in-house Precision Cinema HD Upscale. If your display only takes component input, you'll be pleased to hear that it's using a high performance 14-bit/297MHz Video D/A converter for superior analogue video output.
Check out PDF JP Brochure of BDP-S5000ES.
Here is a snap of the XMB menu which I have always been a fan of:
Anyways, sorry this is meant to be more of a pictorial, so check out the pictures below and let me know if you have any questions in the comments.
View the full article